ABOUT DR. DANIEL KELLY
Dr. Dan Kelly was raised in St. Charles and graduated from St. Charles High School. He then received his Bachelor of Science biology degree from the University of Illinois, Urbana-Champaign. Dan then was awarded his dental degree (D.M.D.) from the University of Kentucky College of Dentistry in Lexington, Kentucky. He then received his Certificate of Specialty in Orthodontics from Louisiana State University School of Dentistry in New Orleans, Louisiana. Dan received several orthodontic honors and awards including the J. Jerome Herbert Award and the James P. Bordelon Memorial Award, recognizing his outstanding academic and clinical achievements.
Dan is an active member of the American Association of Orthodontists, the Illinois Society of Orthodontists, the American Dental Association and the Illinois State Dental Society. He also is a past board member of the Fox River Valley Dental Society.
Dan always knew that he wanted to follow in his father's footsteps and become an orthodontist. From a young age he was able to observe his father in practice and witness firsthand the positive difference orthodontic treatment can make in a person's life. Dan feels that being an orthodontist is the best job in the world. He truly enjoys getting to know his patients and working with them to achieve smiles that will last a lifetime.
Dan feels fortunate to be able to live and work in the same community he grew up in. He enjoys giving back to the community that has given him so much by serving with many local civic and school organizations. He is past president of the St. Charles Kiwanis service organization and is an active member of St. Patrick Church in St. Charles. Dan also currently serves as an active member of the City of St. Charles Youth Commission.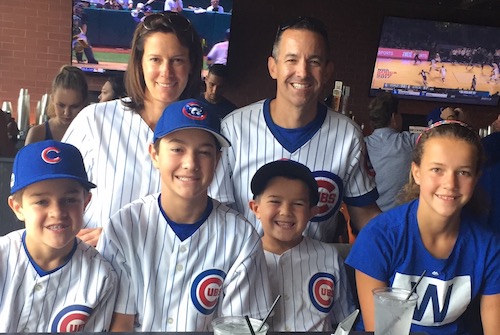 Dan and his wife Jen are the proud parents of four children. Besides spending time with his family, Dan's hobbies include running, exercising, and coaching youth sports. He also enjoys rooting on the Cubs, Bears and Illini!